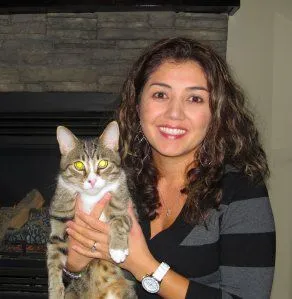 Dr. Sonia Bernal graduated as a Veterinarian from Colombia in 2001, soon after that she moved to Toronto where she spent time working as a Technician gaining valuable experience while achieving her Canadian Veterinary license. While in Ontario she completed the Veterinary Skills and Enhancement Program (VSTEP) at the University of Guelph.
Dr Bernal moved to Calgary in 2009 and has been service the small animal veterinary community ever since. Her professional interests include internal medicine, surgery and preventive health care. She has a passion for clients communication, loves to meet with clients, and strongly believes in regular physical examinations including dental check ups and preventive blood testing in order to identify problems early and improve the quality and length of your pet's life.
In her spare time Dr Bernal likes to spend time with family and friends, watch movies with her husband and amazing rescue cat Thomas. She also enjoys contributing to the community by volunteering at Alberta Spay Neuter Task Force.